McLean's speech therapist, Emily Solis, shares a delightful recipe for eggnog cake and other tips for holiday meals everyone can enjoy, even seniors with chewing or swallowing difficulties.
Gathering around the table with family and friends for a holiday brunch or dinner is a wonderful part of the season. But with food so central to our celebrations, it can be a challenging time for individuals with dysphagia, or difficulty chewing and swallowing.
See how scrumptious it can be to serve things everyone can eat—and everyone will love.
Eggnog Cake
Ingredients
1 cup flour


1 teaspoon baking powder


1/2 teaspoon ground cinnamon


1/2 teaspoon salt


1/4 teaspoon freshly grated nutmeg, plus more for topping


3 eggs, divided


3/4 cup sugar


2 cups store-bought eggnog (or a recipe of your own)


1/3 cup whiskey


1 cup heavy whipping cream


1/4 cup confectioners sugar


1 teaspoon vanilla extract

Directions
Preheat the oven to 350°F.


In a small mixing bowl, whisk together flour, baking powder, cinnamon, salt and nutmeg. Set aside.


Using a stand mixer fitted with a whisk attachment, whip the egg whites on a high speed. While whipping, slowly sprinkle in the sugar. Continue to whip until all of the sugar has been incorporated and the whites are glossy and frothy, about 2 minutes. Turn down to the lowest speed and add in the egg yolks. Slowly add in the dry ingredients until they've all been incorporated. Pour the batter into a shallow 3-quart baking dish.


Bake for 25-30 minutes or until a toothpick comes out clean when inserted into the middle of the cake. Remove the cake and allow it to cool for 15 minutes.


While the cake is cooling, whisk together the eggnog and whiskey. Set aside.


After the cake has cooled for 10 minutes, poke holes in the top of the cake using a wooden skewer or a fork. Pour half of the eggnog mixture onto the cake. Let the cake soak for 15 minutes and then add the rest of the eggnog. Wrap the cake in plastic wrap and let it sit in the fridge overnight.


When you're ready to serve the cake, whip the heavy cream to soft peaks. Whisk in the confectioners sugar and vanilla. Spread the whipped cream over the top of the soaked cake and grate nutmeg over the top. Serve with a nip of whiskey!

Heart Healthy Variation
Replace the eggs with egg beaters equaling 3 eggs. Replace the sugar with a sugar substitute like stevia or Splenda®. Replace the eggnog with a light, low-calorie version. Replace the heavy whipping cream with light whipping cream.
Other Tips
With a little time and creativity, it's easy to prepare holiday favorites that you or your loved one can enjoy along with the rest of the family.
Meats
For those who have difficulty chewing, turkey can be a challenge. Consider cutting the meat into bite-size pieces or using a food processor to chop it. You can also serve extra gravy to add moisture that will make the meat easier to chew and swallow.
Potatoes
Families have many different ways of preparing potatoes for holiday meals. For those with difficulty chewing or swallowing, consider preparing mashed potatoes or mashed sweet potatoes. Consider adding sauce or gravy to moisten even more.
Vegetables
Again, every family has their own recipes for vegetable sides, but green beans, broccoli, cauliflower and squash can be stringy and hard to chew for people with dentures or missing teeth or who having difficulty swallowing. Some easy-to-chew options include steamed vegetables like carrots or even broccoli (if cooked until very soft). A rule of thumb is that if you can squash the vegetable through fork tines without having to press too hard, then it should be soft enough to chew easily. Also consider adding sauce or gravy to moisten more.
Desserts
It's not a holiday meal without dessert! Pies are a favorite dessert served around the holidays, yet crust can be hard to chew. Consider serving the inside of the pie separately for those who might have more difficulty chewing or swallowing the crust.
To learn more about how McLean's rehabilitation therapy services help seniors in Connecticut revitalize their lives and get back to the activities they enjoy, call us at 860-658-3700.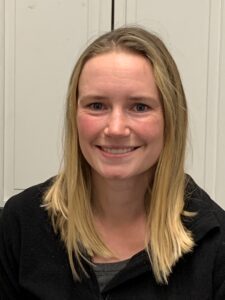 Please welcome speech therapist Emily Solis, one of the newest members of our team. She earned her master's degree from Southern Connecticut State University in 2018 and joined McLean's therapy services team in fall 2020. She works with individuals on an inpatient and outpatient basis at McLean's beautiful Simsbury campus, as well as at home through McLean Home Care. She's been part of the McLean community since high school, first as a hospice volunteer and then during graduate school as a memory care volunteer.
—
Eggnog cake image courtesy Chandice/This Vivacious Life.